Tefal ActiFry Genius XL Review
The Genius XL is Tefal's air fryer aimed at family cooking. The 35% larger cooking bowl will easily cater for 5-6 main meal dishes or up to 8 side dishes. The Genius also features automatic temperature control and a rotating paddle, making mealtimes much easier as it cooks for you.
As with all air fryers, just a spoonful of cooking oil is needed, which means your favourite fried food meals are much healthier and without the calorie hit of conventional frying. It uses a combination of hot air and automatic stirring to cook evenly and thoroughly for perfect results.
In this review, we'll take a deeper look at the Genius XL below, but if you're ready to buy now, there's a button below to take you to the Amazon product page.
Why Choose a Hot Air Fryer?
Air fryers cook fried food but using hot air and a fraction of conventional frying, so you're able to enjoy your favourite foods still but without the calorie intake. These small appliances are commonly suggested to those in slimming / weight loss clubs as a way of cutting down on calories & fat intake. An air fryer like this Genius XL model often needs minimal attention during cooking, thanks to regulated temperature control, auto stirring paddle and preset cooking/timer options. So if you love the thought of air-frying crispy low-fat chips or delicious roast potatoes, the Genius XL is the air fryer for you.
What makes the Tefal Actifry Genius XL 2in1 so good?
One of the prominent features this model has to offer is its food capacity. The extra-large capacity is ideal if you're cooking for 5-6 at a time. It has a capacity of 1.7Kg, which you'll find is lots more than other air fryers have to offer. The Tefal ActiFry Genius XL 2in1 features two tiers with the main bowl plus an upper tray, so if your meal features two elements, for example, battered fish and chips, you can cook the fish on the top tray, and chips in the lower bowl simultaneously. The bowl is a solid design, unlike a basket you often see in other air fryers, which makes it easy to wipe clean after cooking.
There is a range of automatic pre-set cooking programmes to give the best results, which include:
Crispy Chips & Fries
Breaded Snacks
Meat & Vegetable Balls
Battered Snacks
Chicken & Chicken Wings
Desserts
Two "1-meal-in-1-go" programmes
Let the Tefal ActiFry Genius XL take care of meals as it cooks for you.
The Tefal ActiFry Genius XL is available in a choice of two colours, black or white, to suit your personal preference.
Cook Smarter – Auto Stirring Paddle & Temperature Control
The 'Genius' element to this Actifry is that it automatically controls the temperature, stirring and timer according to the pre-set you've chosen. Alternatively, you could just set it via manual mode if you wish. The self-stirring paddle is detachable for easy cleaning. The automatic stirring ensures your food is cooked evenly.
All of the controls for the unit are digital, with a large, clear LCD display that is surprisingly easy to view.
Viewing Window
The top of the unit has a viewing window where you can easily check on the cooking progress without having to stop the cooking cycle. We like that as not all air fryers have this.
Recipe Ideas
This air fryer is a free mobile app called 'My Actifry' to keep you supplied with more than 300 recipe ideas. With such as range of recipes, you'll easily find something to suit your tastebuds.
Food Warming
The Tefal ActiFry Genius will automatically turn off when the timer reaches zero, but there is also a function to keep your food warm – great if your diners aren't quite ready to eat straight away. Food cooked in the Tefal ActiFry Genius XL can remain there without going cold.
Dishwasher Safe Parts
Cleaning up afterwards is easy as the detachable parts (pan, top tray, paddle) of the Tefal Actifry Genius XL are all dishwasher safe. Any food debris will easily wipe clean thanks to the non-stick coating.
Faster Cooking
Tefal also claims this newest generation air fryer is 30% faster to cook, so expect a kilogram of chips to be cooked in 28-30 minutes and meat stir fry ready in around 10-12 mins.
What's in the box?
In the box, you get:
1 x Tefal ActiFry Genius XL unit, including main pan, upper tray, spoon, and detachable handle.
1 x Tefal ActiFry Genius XL instruction manual (see images below)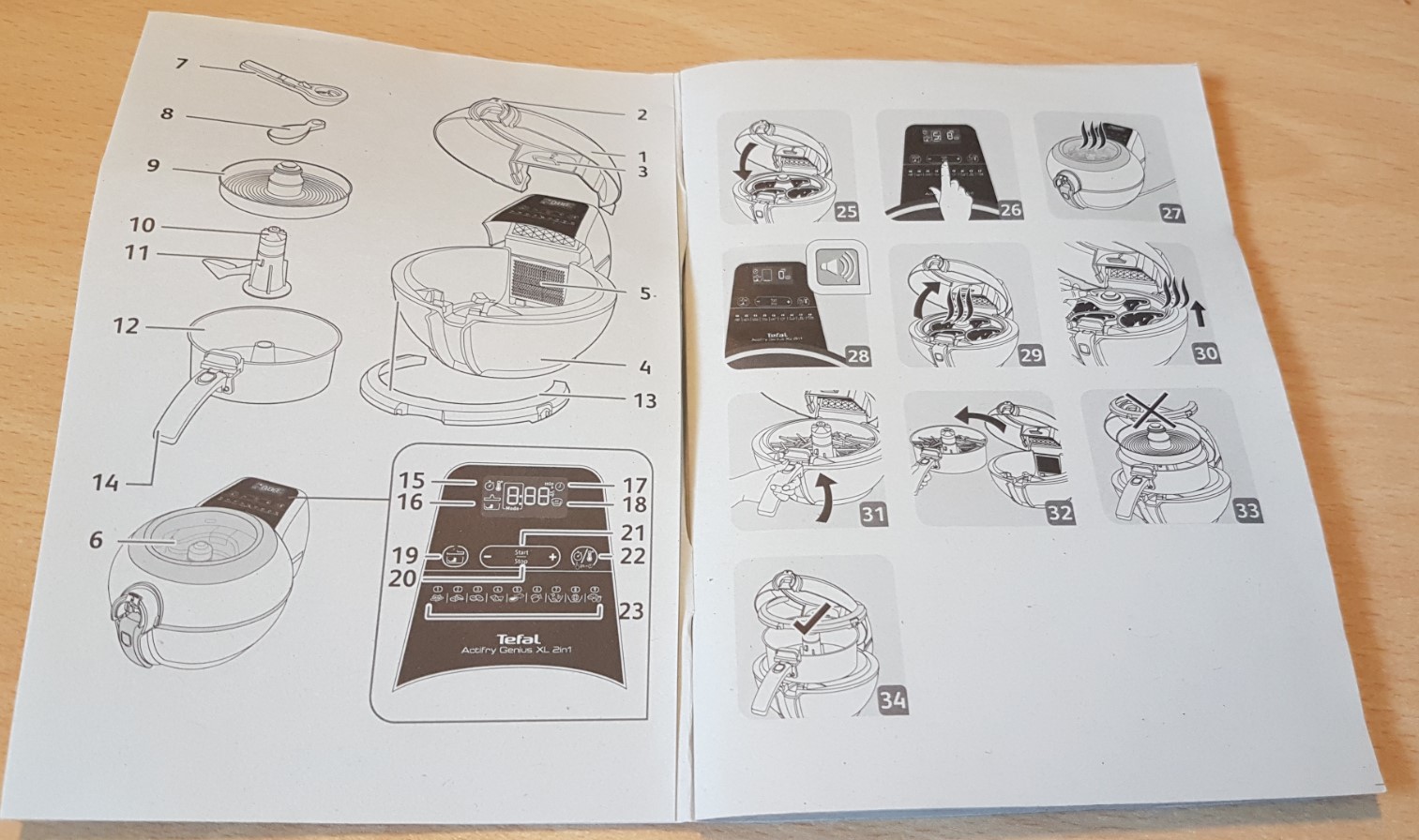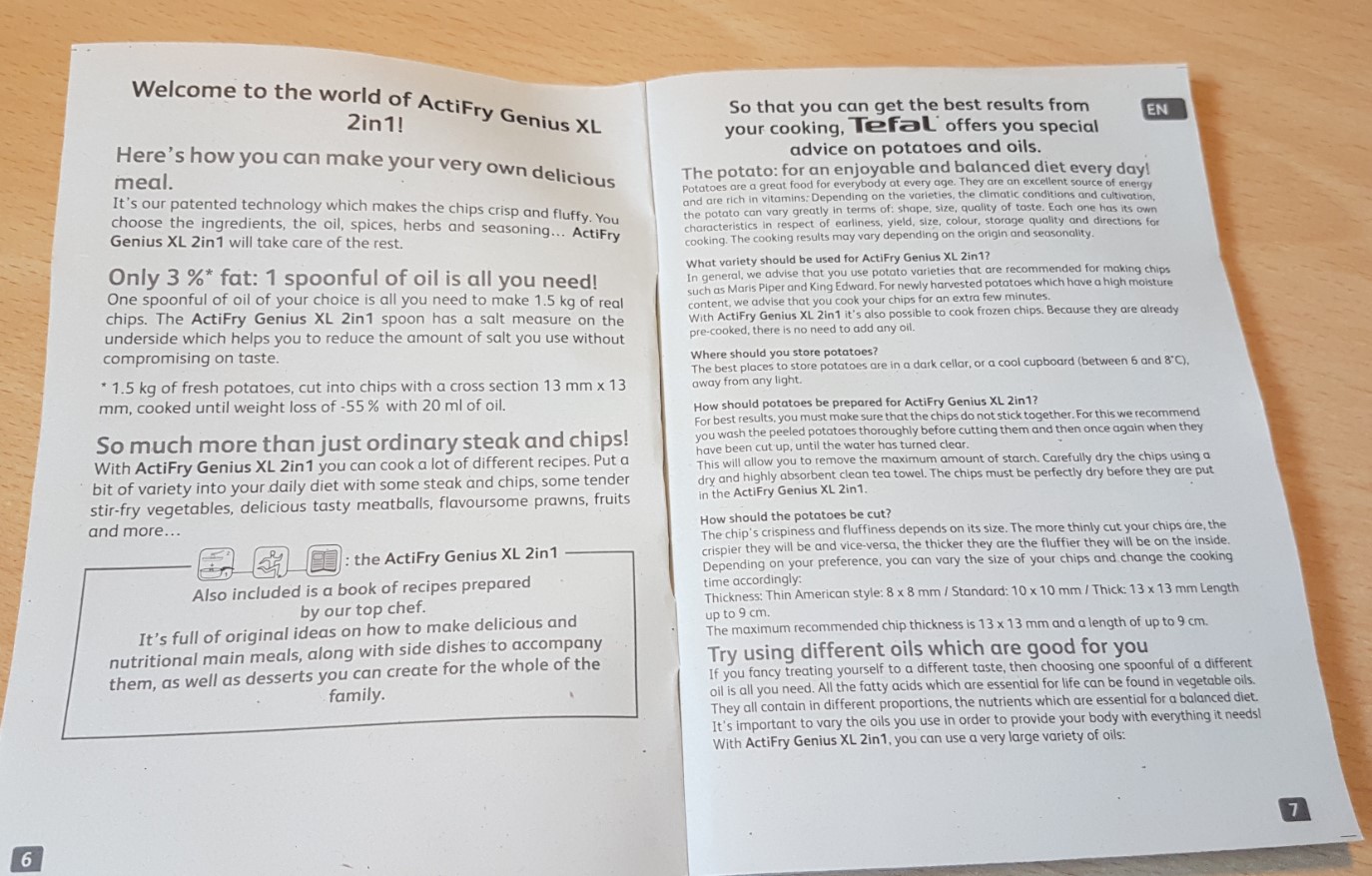 Specification
Brand: Tefal
Name: Tefal ActiFry Genius XL
Model Number: AH960040 / AH960840
Colour: White or Black
Product Dimensions: 47.6 x 32.8 x 26.3 cm
Weight: 5.07 kg
Capacity: 1.7 kg
Material: Plastic & Steel
Item Weight: 5.07 kg
Let's Review Customer Feedback
As with all of our reviews, we like to find and collate comments from around the web from buyers who already have a Tefal ActiFry Genius XL air fryer. So, let's take a closer look at people's comments.
Easy to use
The ease of use is often mentioned by customers, with the pre-set cooking options and digital controls getting a big thumbs up. The controls are located on the top of the machine. Not only that, but customers love how easy the unit is to clean after you've finished cooking, either in the dishwasher or simply by hand washing. To start, pause or end the cooking cycle, press the touch-sensitive Start button on the control panel.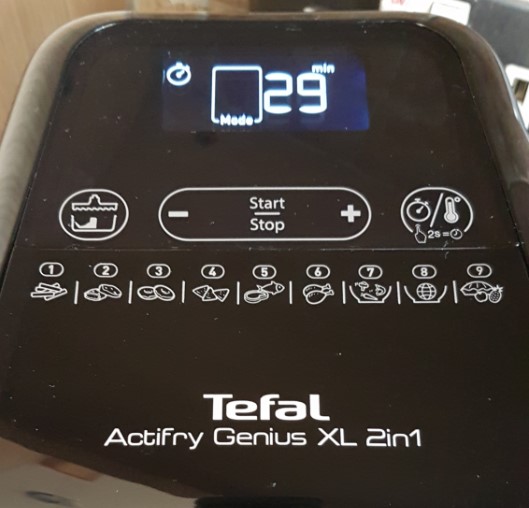 Daily use
People love their Tefal ActiFry Genius XL so much that they use it for daily cooking, and their conventional oven hardly ever gets used. The Genius XL is at home on the kitchen counter for everyday use. This is not only a timer saver (an air fryer heats up faster) but also saves energy usage. Customers also like letting the Genius XL get on with cooking, with no need to manually stir or shake the contents of the bowl.
Stirring Paddle
Some buyers have noted that while the cooking bowl has a non-stick coating, the stirring paddle does not, which means it can be difficult to clean & get stained over time. This isn't a big issue but thought we'd mention it for full transparency.
Stop Alarm
At the end of the cooking time, the Genius XL will emit an audible beep, but some customers thought this could be louder as it can be difficult to hear it, especially if you're in another room.
A Review of FAQs
What types of oil can I use in my ActiFry Genius XL?
Oils that can be used to air fry include Olive, vegetable or sunflower oil are the most common that can be used, but you can use others if you wish.
How much oil do I need to add to frozen chips?
As the chips are frozen, you don't need to add more oil – they will already be coated. If, however, you're cooking chips from raw potatoes, then just one spoonful using the supplied spoon will be enough.
How do I get my chips and fries to be crispy?
If you're cooking homemade chips from scratch, make sure you rinse and dry them thoroughly first. If the chips are wet, the oil won't adhere to them, so you won't get the crispy finish you'd like.
What type of potato is best for chips in the Actifry Genius XL?
Generally, any potato suitable for chips will be fine, but we particularly like Red Rooster or Maris Piper varieties.
What other types of food can I cook in the Genius XL?
The options are almost endless, but you can also cook bacon, fish, chicken legs and wings and vegetables.
Does it come with a basket?
No, this and all Tefal air fryer range uses a solid, non-stick bowl design. This is actually easier to clean than a basket.
Does it come with a power lead?
Yes, a power lead is included with the machine.
How much worktop space does it require?
The dimensions are: 47.6 depth x 32.8 width x 26.3 cm height. It is a bulky design compared to other compact air fryers, but bear in mind this machine is designed to cater for family cooking.
Final Thoughts
The Actifry Genius XL is the perfect health fryer if you want family cooking capacity with minimal effort. The preset programmes provide additional cooking convenience, so simply add your ingredients and let the Genius XL do the rest and dish up delicious food. This is the best XL air fryer we have reviewed, so it gets the highest rating from us.