Jump to the Air Fryer Reviews section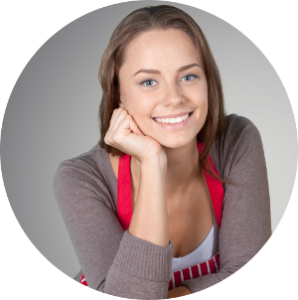 Over 5000 visitors come to my site each month to read my health fryer reviews before purchasing. My name is Jamie, I'm a mum with two young children and I would like to thank-you for stopping by and giving me a little of your attention today. The site took over 100 hours to create but it's worth it for the amount of positive feedback I receive about my air fryer reviews.
How did the site start?
I decided to start this site after my first health fryer purchase was a disaster. I bought based on price and price only (it was less than £40). The unbranded model I chose only last for 2 months before malfunctioning and the high street shop I bought from had closed down so had no way of getting a refund. Not wanting to make the same mistake again, I decided to research the best health fryers available and write detailed reviews about them here. Cooking with a health fryer has transformed my diet for the better. I've lost 2 stones and eat a more balanced diet, thanks to the versatility of my health fryer.
I manage this site with my husband Jeff and together bring you the latest health fryer model reviews.
Jump to the Air Fryer Reviews section
What we do
This site is dedicated to bringing you the very latest reviews of low fat fryers and halogen ovens for 2017. We'll help you make an informed choice of which healthy cooking appliance will suit your needs and budget.
Healthy cooking doesn't have to mean cutting out your favourite fried food. Low Fat cooking uses minimal oil meaning the same great taste but without the high levels of saturated fat.
We've gone out into the low fat fryer market and picked our top ten products to present to you with a full review, containing the good, the not so good bits about each one. Having saved your hard earned money, you want to be sure which appliance will suit your needs best.
Jump to the Air Fryer Reviews section
With more and more consumers becoming health conscious, it's no surprise that low fat fryers was the top selling kitchen appliance in 2014 and their popularity will sure continue going into 2017. This is good news for the consumer as manufacturers will continue to invest into product development giving you, the consumers plenty of choice. That's why we started this site, to guide and assist you to make the right choice of health cooker.
The Best Healthy Low Fat Air Cookers of 2017 – What to buy
Product & Key Features
Tefal ActiFry Plus
Check Amazon Price



££ MID RANGE


Unique stirring paddle to ensure food is evenly-cooked


Easy to clean


Power 1400 Watts



Breville Halo Plus Health Fryer VDF105
Check Amazon Price



£ BUDGET OPTION


Removable Oil Container


Timer


Tilt function and non-stick rotating bowl for even browning



Philips HD9220/20 Airfryer Healthier Oil Free Fryer
Check Amazon Price



££ MID RANGE


Uses up to 80% less fat


Auto-off function includes a "ready" sound indicator


Comes with a recipe booklet



Tower T14001 AirWave Low Fat Air Fryer
Check Amazon Price



£ BUDGET OPTION


17 L capacity with 5 L extender ring


Triple cooking power - halogen/convection/infrared


Cooks from frozen no thawing time needed



Duronic AF1 /B Healthy Oil Free Jet Fryer Multicooker
Check Amazon Price
(Available now with 61% off RRP)



£ BUDGET OPTION


Cool touch exterior


Air circulating technology


Dishwasher safe fry bowl and basket



Russell Hobbs 20810 Purifry Health Fryer
Check Amazon Price



££ MID RANGE


Oil free health fryer


Dishwasher safe basket


60 min timer with auto switch off



Tefal ActiFry Low Fat Fryer
Check Amazon Price



££ MID RANGE


1 spoon of oil for 1kg of real crispy chips


Digital timer and audible alert


Paddle automatically rotates food, cooking evenly with no need to shake or start



Tefal X-Large ActiFry Express Health Fryer
Check Amazon Price



PREMIUM


££ MID RANGE


Cook frozen food with no added oil


Cook curries, stir-frys, casseroles and much more


Removable dishwasher safe parts



Tefal ActiFry 2 in 1
Check Amazon Price
(Available now with 45% off RRP)


PREMIUM Choice


2 in 1 recipe book


Digital timer with auto-off and audible alert


Removable dishwasher safe parts



Team VisiCook AirChef Air Fryer
Check Amazon Price



PREMIUM OPTION


Advanced turbo hot air cooking


Stay cool exterior


UK based customer helpline


Andrew James 12L White Digital 1400W Halogen Oven
Check Amazon Price



£ BUDGET OPTION


Digital Control Panel


Free accessories included


Powerful 1400 Watts, max temp 250˚C



GOURMETmaxx Air Fryer
Check Amazon Price



£ MID RANGE


Adjustable Temp. Control


German Engineered and Built


Powerful 1800 Watts



Air Fryer Reviews – Our Top 10 Picks
In the table above are our current top 10 picks for low fat cooking in your kitchen. Our readers tell us having the products all in one place to review is a great help when choosing which product to buy so if you're new to this site, we hope you find this too. Below is our mini reviews section, which gives you an overview of each low fat fryer or oven.  We'll be adding more detailed reviews for those who require more information to make their informed choice, but you'll notice the buttons to go through to Amazon.co.uk should you be ready to complete your purchase.
Our #1 Pick: Tefal ActiFry Plus
The Tefal ActiFry is our top choice for low fat cookers for it's versatile range of features, ease of cleaning and great value. When there are five million households in the world using the Tefal ActiFry, it's no surprise to see this as at the top of our list. Introduced to the UK in 2007, it's been used to cook healthy, low fat meals in homes up and down the country.
A common misconception with low fat cookers is that you can only cook chips in them. Wrong! The Tefal ActiFry, along with all of the other fryers featured here can be used to cook a multitude of meals including curries, casseroles and roast dinners.
What makes this fryer stand out as our top choice is the patented technology around the paddle and hot air system meaning thoroughly cooked food every time.
If you're short on time, you'll love the ActiFry's simple and easy clean system – just added your ingredients, and of course a spoon of oil and leave it to cook you a delicious meal, every time.
The lid, bowl and paddle are dishwasher safe and the remaining parts can be cleaned with a damp cloth with ease. To top it off, it also comes with a free recipe book, so if you're new to this type of cooking then that will help you get started in no time!
Check price on Amazon.co.uk
Read our full review of the TEFAL ActiFry Plus here.
Our #2 Pick: Breville Halo Plus VDF105
Our second choice is the Halo Plus from Breville, the successor to the original Halo and now comes with a faster cooking time – 28% to be exact over the previous model. We all love time savers in the kitchen so this was a major contributing factor to making this our top choice. It's no surprise to see Breville near the top of our list; they are a leading brand of domestic and kitchen appliances in the United Kingdom and Amazon have made a good decision in stocking Breville products in their range.
The Halo Plus comes with a dual heat source, meaning instant heat but the same time, the fan assisted heat source ensures food is thoroughly cooked through. It's a versatile addition to any kitchen giving you the ability to fry, bake, sauté and roast your food. If you hate washing up, then you'll be pleased to hear it comes with a dishwasher safe bowl, which is capable of holding up to 1Kg of chips.
Whilst the colour scheme of the Halo Plus won't suit all tastes, we suggest that doesn't put you offer buying this feature rich health fryer for what is a great price.
Read our full review of the Breville Halo Plus here.
Check price on Amazon.co.uk
Our #3 Pick: Philips HD9220/20 OIl Free Airfryer

The team at Philips have done a cracking job in producing the HD9220/20 Airfryer.  This is one of the smaller capacity fryers we have reviewed but depending on your requirements, this might be the ideal choice for you.
With its patented Rapid Air Technology, the Philips HD9220/20 can cook fries with 23% fewer calories than those cooked in a conventional deep fat fryer – an important consideration if you want to follow a calorie controlled diet.
It comes with a fully adjustable temperature control as well as a timer, which also has pre-set cooking times and an auto-off setting.  There's also an audible sound informing you cooking has completed.
Like other appliances reviewed here, this also comes with a recipe booklet to help quickly get you started and cooking – the low fat way.
Unlike other fryers on the market, there is no transparent lid to this machine, so you can't check on your food without removing the tray, but this is a minor point we thought we should mention.
Lastly, something worth pointing out is the HD9220/20 is delivered in frustration free packaging which means there will be minimum package waste for you to dispose of when it arrives.
Read our full review of the Philips HD9220/20 here.
Check price on Amazon.co.uk
Our #4 Pick: T

ower T14001 AirWave Low Fat Air Fryer
If you like to see your food as it cooks then the T14001 is the one for you. Not only is it priced very competitively, it's packed with a range of features, including cook from frozen mode. This fryer is our budget range and this is partly because it doesn't have all of the features that you'd expect from the more premium models.
One example of this is that there is no rotating paddle so you have to turn the food yourself for best results.  That said, this is currently retailing at half the manufacturers recommended retail price so if you're on a budget, this model is ideal. It has a 17 litre capacity which will suit most household requirements.
There are two racks with this low fat air fryer so you can cook different foods at the same time. e.g chicken and chips.
Cleaning up is made is made easier with the built-in self clean function, which removes any build up grease and oil from the bowl.
With easy carry handles on either side, the Tower T140001 AirWave is our #4 choice.
Read our full review of the T14001 here.
Check price on Amazon.co.uk
Our #5 Pick: Duronic AF1 /B Healthy Oil Free Jet Multicooker
As with other models in our line up, the Duronic AF1/B is a closed cooking system that provides an odourless and splatter free cooking experience.  It has a cool exterior so if safety is a concern (e.g children in the home) then this will be an important buying consideration.
There's an adjustable cooking temperature control and it also comes with a free recipe book to get you started with this type of cooking. Example of recipes included are for chips, chicken wings, fried cod, samosas and lamb chop among several others.
In terms of power, it is rated at 1500W which is slightly higher than most other models on the market. It has a black exterior with a white and silver handle and has a 2 year warranty.
Both the bowl and basket are dishwasher safe, so no washing up afterwards.
This is one of the more compact units we've reviewed and can easily fit on the kitchen counter or stored away if needed.
Let every day meals become easier to cook with the Duronic AF1/B.
Read our full review of the Duronic AF1/B here.
Check price on Amazon.co.uk
Our #6 Pick: Russell Hobbs Air Fryer 20810 Purifry

Here we have a fryer by another well known brand, Russell Hobbs. This air fryer comes in white and black and will suit most kitchen counters, blending in with other appliances.
The Purify uses circulating hot air to ensure food is cooked thoroughly and evenly, giving a crispy finish to family favourites such as chips and chicken nuggets. As this is a closed fryer, odours and vapours are greatly reduced.
Whether it's baking or roasting, the Purify will do both and although there's no rotating paddle with this model, all that is required is a quick shake of the cooking basket, using the easy to hold handle.
Cooking different foods at the same time is possible too, with the food separator.
There's a 2 litre capacity and comes with a cooking temperature of up to 200° C. There's no preset timers, but a manual 60 minute timer with auto cut-off. There's no need to use any oil of fat – it's down to your personal preference on healthiness and taste.
Washing up is easy as the cooking basket is dishwasher safe.
Read our full review of the Russell Hobbs 20810 here.
Check price on Amazon.co.uk
Our #7 Pick:

Tefal ActiFry
Once again we have another Tefal cooker in our review line up and this is the baby brother of our #1 choice. This 1kg low fat fryer uses Tefal's patented hot air system and stirring paddle for evenly cooked food. Not only is this hands-free cooking, it also means less of your time spent tending to your cooking. Set and forget!
There are four main removable parts to this model – spoon (for the oil), bowl with handle, paddle and lid – all of which can be washed in a dishwasher for added convenience.
A neat feature of this Tefal model is the pause function, allowing you to halt the cooking cycle while you add seasoning, or other items to cook for example. The cooking cycle is instantly resumed the moment you close the lid.
The removable bowl is non-stick and is ceramic coated for easy cleaning. If you're new to low fat cooking, this model also comes with a free recipe booklet, but Tefal have taken this further with a downloadable app for additional meal ideas and tips.
The timer on this model is digital and there is an audible alert at the end of the cooking cycle.
The stylish black finish will look at home in most kitchens.
Check price on Amazon.co.uk
Read our full review of the Tefal ActiFry here.
Our #8 Pick:

Tefal X-Large ActiFry Express
Here's our 3rd Tefal product in the line up and this is the premium model of all three of the Tefal models featured here. With a huge 1.5KG capacity, this extra large fryer is ideal for large families (up to six people) with big appetites. Not only is it larger, it's also faster than the Tefal 1KG model, cooking up to 30 per cent faster.
When you cook with 100 times less oil, the health benefits of doing so are obvious.  This is what you can do with this low fat express – just one spoonful of oil is required for 1.5KG of chips, making your food substantially more healthier.
This Tefal model is available in two colours – black or white, so pick whichever will suit your kitchen colour scheme best. You get a free recipe book to help you get started. There's also an Tefal downloadable app for even more recipes and tips.
As you'd expect, the model's removable parts are dishwasher safe so cleaning is easy.
Please note the fryer is shipped in frustration free packaging.
Check price on Amazon.co.uk
Read our full review of this TEFAL X-Large ActiFry here.
Our #9 Pick:

Tefal ActiFry 2 in 1

Tefal have the taken the ActiFry one step further with this 2 in 1 model, with the inclusion of a cooking plate above the bowl assembly, meaning there are more variations to cook a complete meal from just one appliance.
The top plate rotates so whether it's chicken, fish or sausages you're preparing, they will be cooked through while the bottom bowl cooks your the rest of your meal, be it, chips, stir fry or even a risotto.
Once again, as with the other Tefal models, only one spoonful of oil is needed to coat the food prior to cooking making it far more healthier than deep frying.
The lid is transparent so you can easily keep an eye on your food as it cooks and removable for cleaning.  The ActiFry 2 in 1 has an LCD timer display with an automatic cut-off. The model is large enough to serve up to 6 people so is an ideal choice for large families.
The parts are dishwasher friendly so cleaning the Tefal 2 in 1 is easy and finally there's a getting started recipe book included.
Read our full review of the TEFAL ActiFry here.
Check price on Amazon.co.uk
Our #10 Pick:

Andrew James 12 litre Halogen Oven
The Andrew James 12 litre halogen oven completes are range of low fat oven reviews.  It's one of the most economical halogen ovens available right now and is worthy of inclusion in our 2017 review line up.
It's British made and comes with a 2 year guarantee and a UK support line should you need it.
You also get a generous amount of accessories included and you can read our full review here to find out exactly what we thought of it.
Check price on Amazon.co.uk
GOURMETmaxx Air Fryer
The GOURMETmaxx Air Fryer is a new entry in our line-up of low fat fryers. It's German designed and engineered so you can expect a very good quality fryer. It uses a basket and handle design, with no viewing window.
In looks, it's very similar to the Phillips HD9220 model, with a sleek, glossy black finish which compliment most kitchen finishes. Read the full review here.
Check price on Amazon.co.uk
Daewoo Air Fryer
The Daewoo Deluxe Air Fryer is our most recent addition to our review line up. It's a well known brand and offers a budget option for cost conscious buyers. It has a glass bowl design with easy viewing of your food as it cooks.
In looks, it's similar to the Tower T14001 model. Read the full review here.
Check price on Amazon.co.uk