In this post, we'll take a look at the standard features you'll want to be aware of if you're thinking of buying an air fryer for the first time. Given the many choices available, being armed with the knowledge of what to look out for will best prepare you to make the right decision. Once you're ready to buy, you can head over to our air fryer reviews for model-specific information.
Stirring Paddle
We're fans of models that have a stirring paddle because it means that cooking is hands-off. Without a paddle, you'll often have to check the food you're cooking and if necessary, turn it or, at the very least, give it a shake in the basket. While this isn't a major downside, we still feel it's important to point it out.
Temperature Control
Not all fryers will have temperature control. Some models, like the Tefal ActiFry, have a cooking temperature of 230 degrees. In some instances, having control of the temperature your fryer cooks at will yield better results, and the more culinary inclined among you will understand this. That said, if you want your fryer to cook traditional food such as nuggets, chips, wedges, chops, steaks and fish, then a set cooking temperature will be acceptable.
Digital vs Manual Timer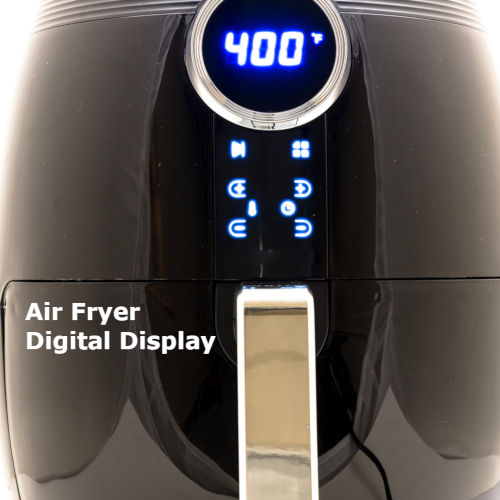 Every fryer will have a cooking timer to indicate the time left on your cooking cycle. A digital timer does offer a more precise reading and needs a glance of it to see. Manual timers can be a little less easily read, but it often comes down to personal preference. Some people, perhaps the elderly, may find digital settings more challenging and prefer the simplicity of turning a dial to set the timer.
Additional Cooking Racking
Some models have an extra cooking rack to help keep food separate as you cook. The Tefal 2-in-1 ActiFry is one example, allowing entire meals to be cooked in the fryer.
Is it dishwasher-safe?
Cleaning your fryer is a must after every time it's used, so being able to wash it in your dishwasher is something you will no doubt appreciate. We've found that all of the models we've reviewed have dishwasher-safe parts, e.g. the bowl/basket, paddle, and lid (not all models), but some are more difficult to wash by hand. Check out user reviews for the best fryers that are easiest to clean by hand.
Size
When it comes to choosing a health fryer, size does matter. Health fryers come in various sizes to suit the number of people they will be used to cooking for. If you only have 2 people you're cooking for, there are plenty of budget models on the market that will suit you. If you have a large family, say 4-6 people, then the XL models, for example, the Tefal Express XL, will be the better option.